Details

Category: Ürünler
Published on

25 February 2015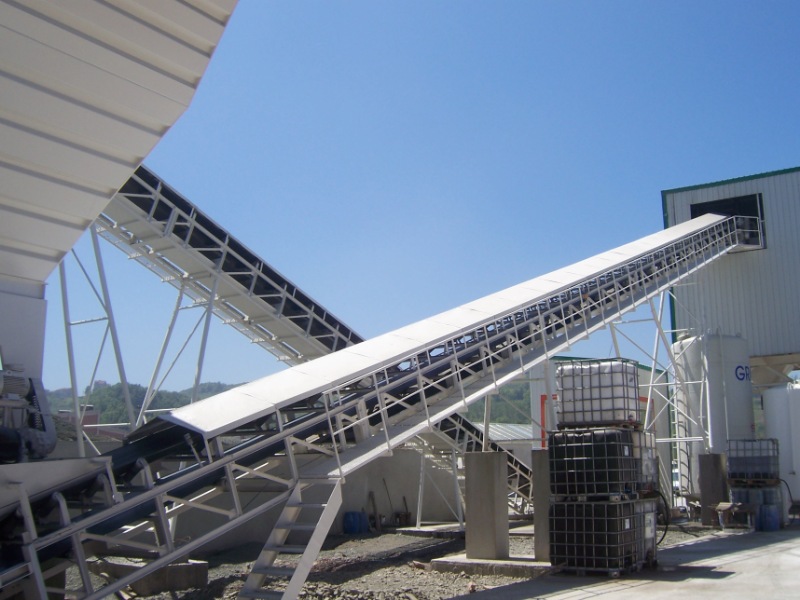 Material handling is made through a feeding belt between aggregate bunker and mixer or preload bunker in concrete batching plants. In some conditions and case of insufficient space in the plant, bucket elevator may be used instead of feeding belt. In addition, a pre-feeding system (walking belt platform) may be used for cases when it is impossible to carry out the process of filling with a dump truck or a loader above the soil-filled ramp by bunkers
Material handling is made through a feeding belt between aggregate bunker and mixer or pre-load bunker in concrete batching plants. In some conditions and case of insufficient space in the plant, bucket elevator may be used instead of feeding belt. The chassis of belt conveyor is supported and made from steel profiles. The conveyor belt on the rollers is moved with rubber covered driving drum. If the slope of transfer belt is high, wishbone or sergeant pattern belts are preferred to prevent slipping and rolling on the material backward.
Thanks to walking platform next to the conveyor belt, arriving to weighers are easy during service and maintenance. The top and bottom of conveyor belts are optionally covered with galvanised sheets in order to protect material from external factors and prevent loss of dust and sand particles.
A pre-feeding system (walking belt platform) may be used for cases when it is impossible to carry out the process of filling with a dump truck or a loader above the soil-filled ramp by bunkers. For that reason, the aggregate is filled into truck unloading bunker with the capacity of 14-15 m³. The aggregate is transferred to pre-feeding belt via rear feeding belt. From pre-feeding belt, the appropriate material of each compartment is discharged automatically.
Level gauge erected to the bunker indicates the minimum and maximum level of the material and send a warning for the compartments getting emptied.